The Opportunity Statement
People commute on a daily basis either for work or vacation. They often rely on service stations to not only supply gas but quick eats and refreshments.
Having to deal with a troublesome kiosk to order food could lead to wasting daylight stuck in lines in a store and extra time on their road trip.
Not to mention, an overly crowded store could result in customers not wanting to stop at your location and less sales.
Research Insights & Assumptions Overview
For this project,
I conducted research by visiting the location, observing the store flow and kiosk ordering process, and surveying people for their experience.
I also looked on the internet for any information of research done in the past. The assumptions I had for pain points were, users could benefit from a rewards system, users could benefit from a mobile app, possibly the site map on the kiosk could be condensed and streamlined.
Key Personas & Circumstances of Use
For Buccee's,
The key personas or target audience I used to formulate my project on are travelers 35 and up, who take frequent road trips either for leisure or work.
There are a lot of truck drivers, construction, hauling and tourism that contribute to the customer base. Bucee's is a novelty store that people are willing to drive to from out of state for the experience and abundance of food. So the experience of the food is a big part of why customers continue to come back.
Behavioral Goals
The behavioral goals I have for the users on this project are simple.
The user should be able to come into the store, go up to a kiosk, click through a few simple easy screens, pay for their order, then pickup the order from the pickup counter, and then leave.
In order to achieve this goal, the in-store kiosk has to be redone or upgraded. This will enable a few upgrades to the current system like a reward system, kiosk merchant pay enabled and a consolidated sitemap.
What Are Their Pain Points?
After doing research I found that the point points of users were no reward system, no app for business, layout of in-store kiosk is confusing, users wish there was a sign in to show food history, and users can't pre-order food for time convenience. After looking at the data I realized that I had to decide which problem I needed to tackle. I felt that a reward system app would be a good candidate but, a way longer process. So I decided to
update or fix the in-store kiosk to maximize usability and the utility of this would benefit the stores flow and traffic.
Key Scenarios
I think by updating the in store kiosk, users will be able to move in and out of the store faster. The first thing that will be able to solved is creating a feature that will allow you to create an account or login. This feature will help speed up time for customers who know exactly what they want, because they order the same thing everytime. This feature could store their previous orders so they could just reorder it again. The second thing would be to consolidate the sitemap so that time won't be wasted on unneeded screens. The need to make each screen concise and useful is paramount. The third addition would be to enable the user to pay at the kiosk with a card. This would drastically cut down on some users* wait time by not having them sit in 3 lines. The line for the kiosk, the line for the food pickup, and the line at the register. Of Course some users may still have to get in the third line but this may cut that in half. I believe these additions will help in achieving the overall goals of streamlining the food kiosk process.
Design Principles/heuristics
For this project I want to set some key heuristics. I did some research on guidelines for kiosks and listed things that I believe will help me achieve my design goals for this project. These heuristics come from best practices, current literature, and current projects on ui for kiosks.
Avoid unnecessary visual elements
Make text and elements visible with sufficient contrast
Communicate on multiple channels
Provide clear affordances
Rely on recognition, not memory
Do not allow illegal choices.
Avoid language selections; make pages multilingual
Show instructional videos on the start page
Use confirm and next buttons sparingly; 
provide back buttons.
Request information sequentially, not simultaneously.
Reveal all the required steps from the start
Direct selection is preferable to selection via cycling through options
Solicit the advice of experts on language and culture
Avoid unnecessary accuracy and detail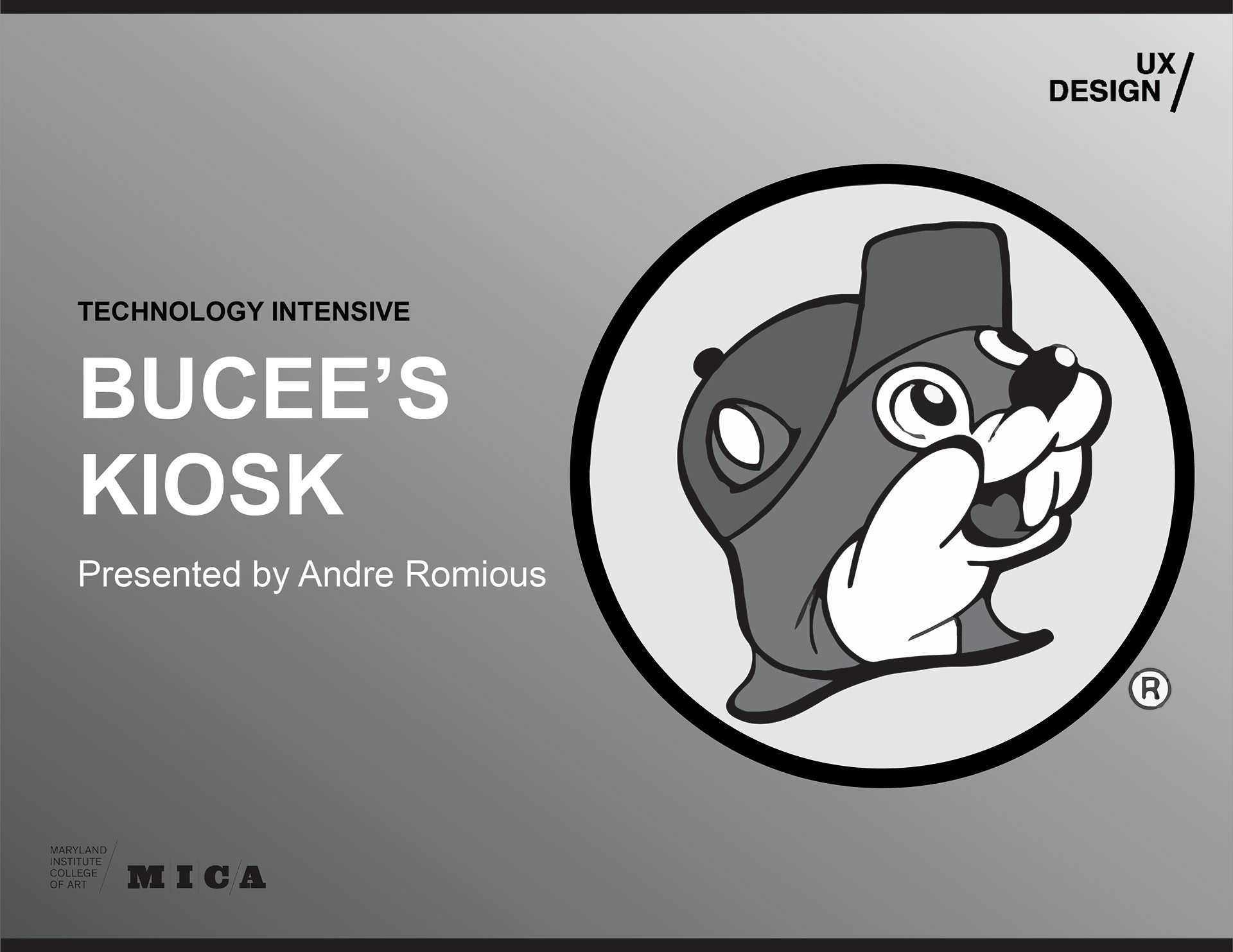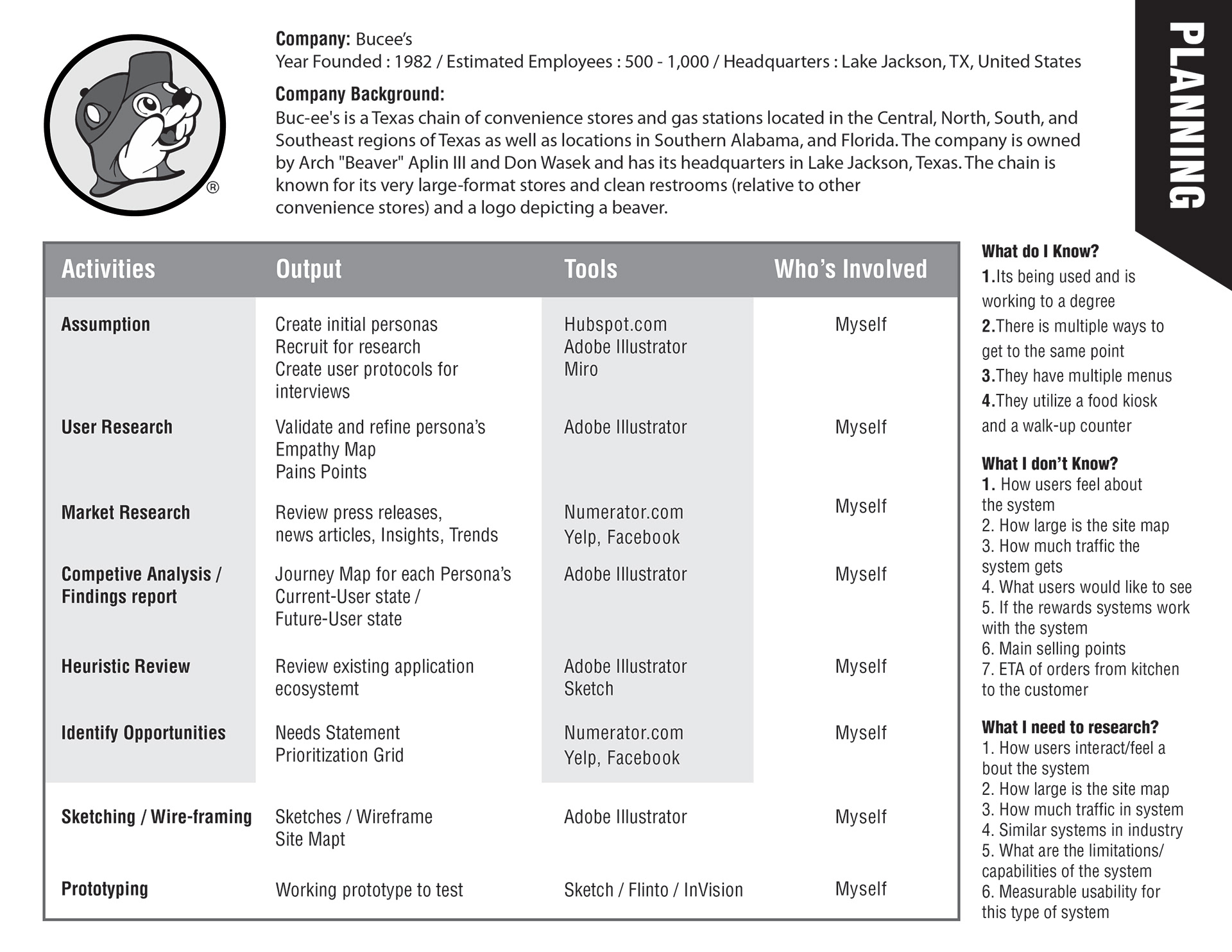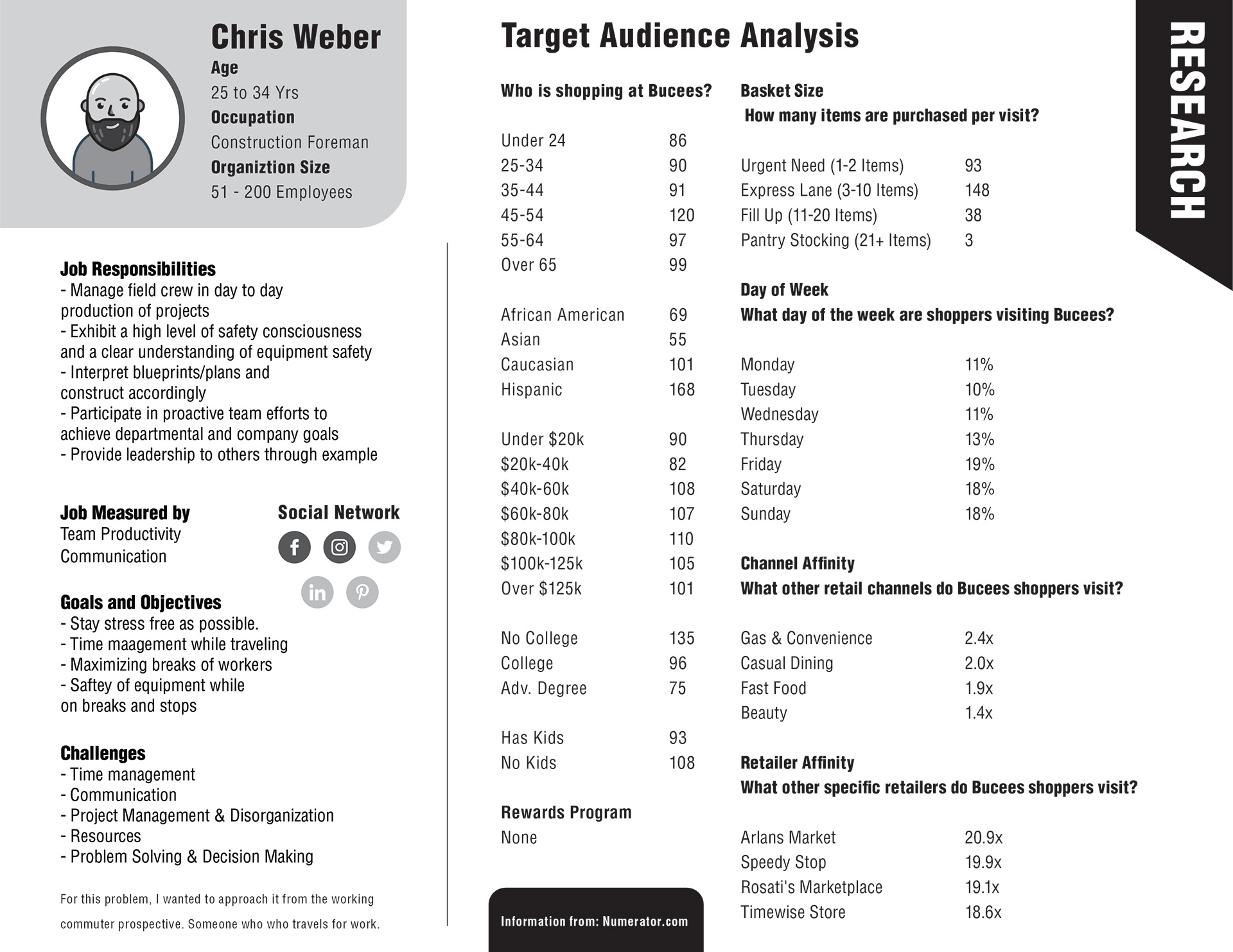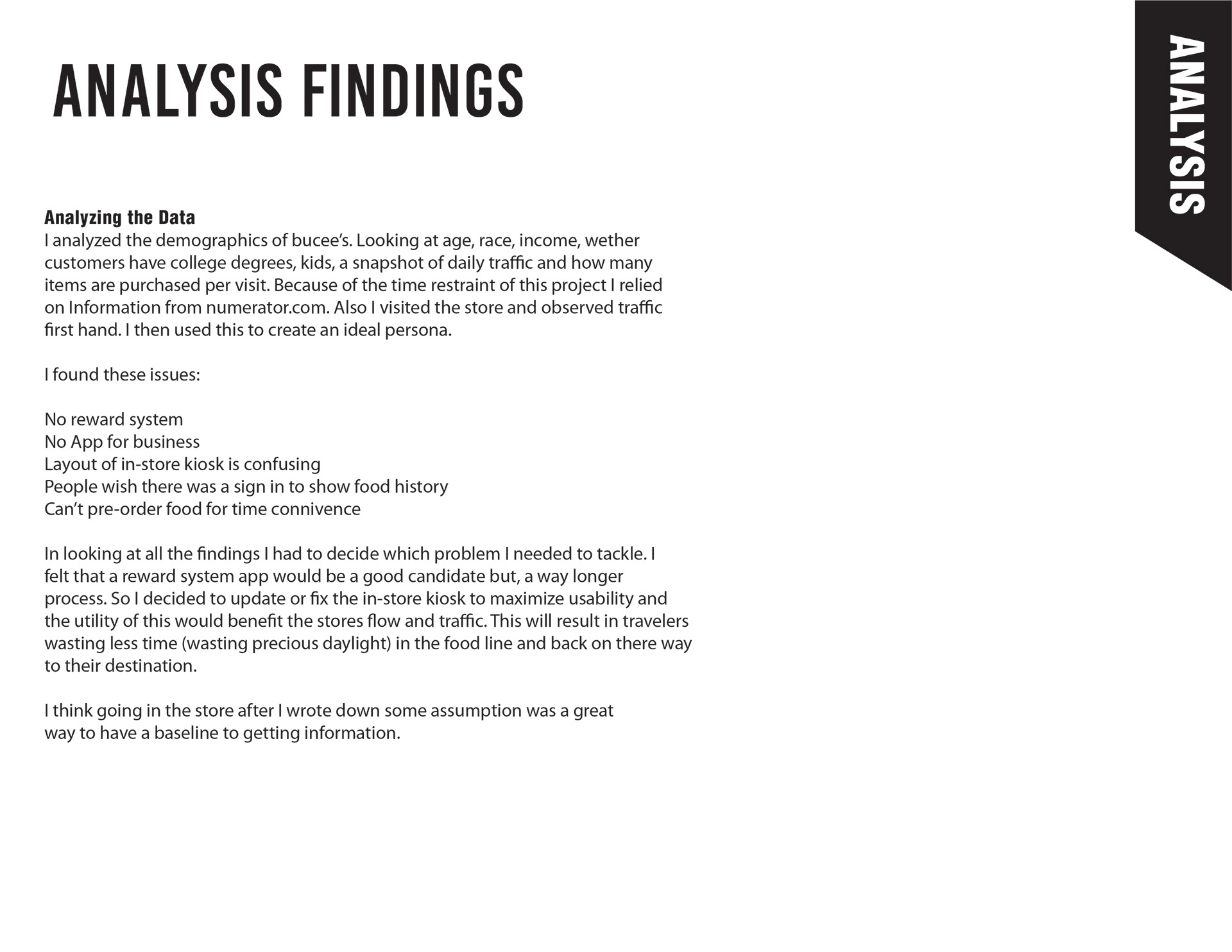 Formulating  The Features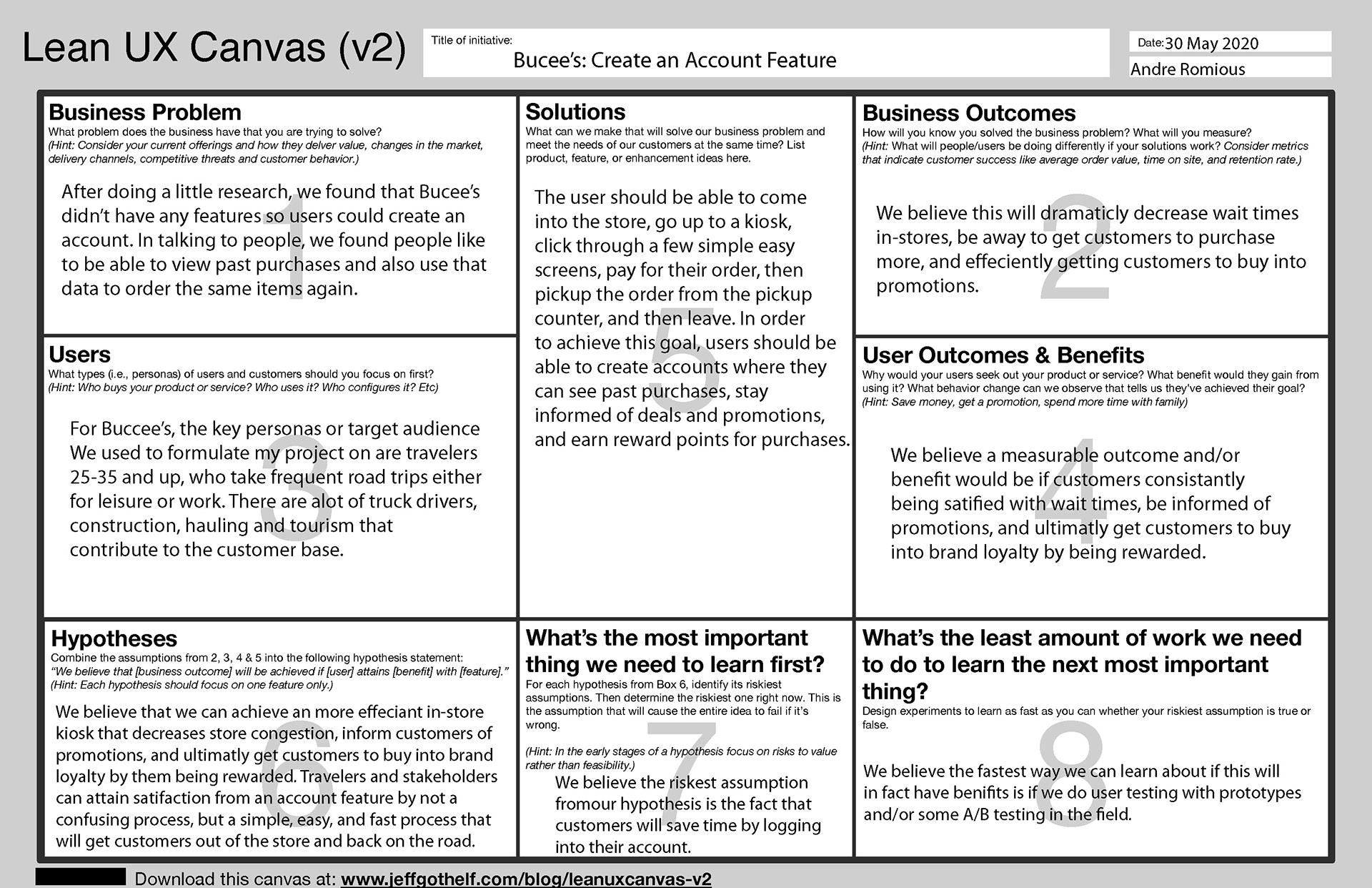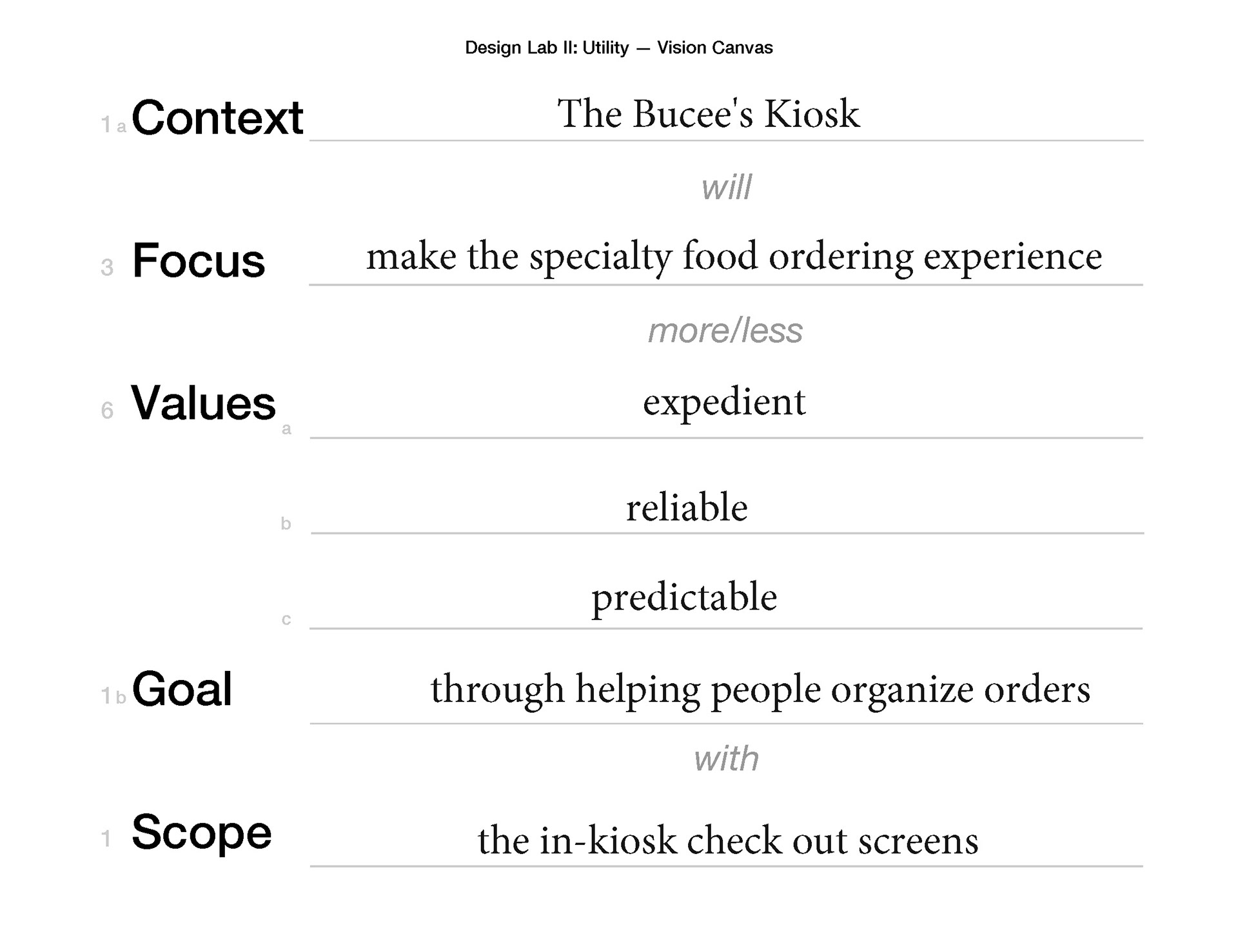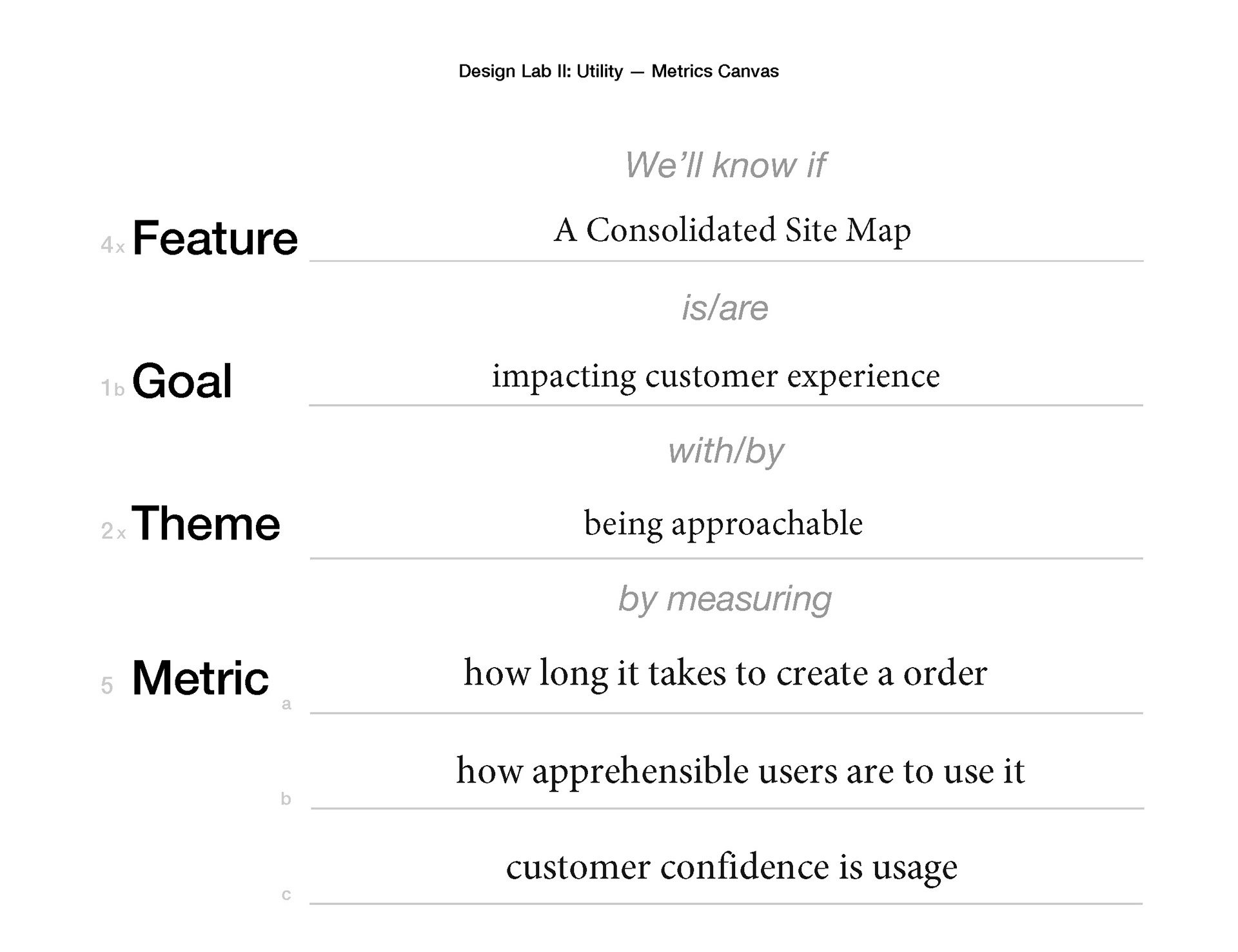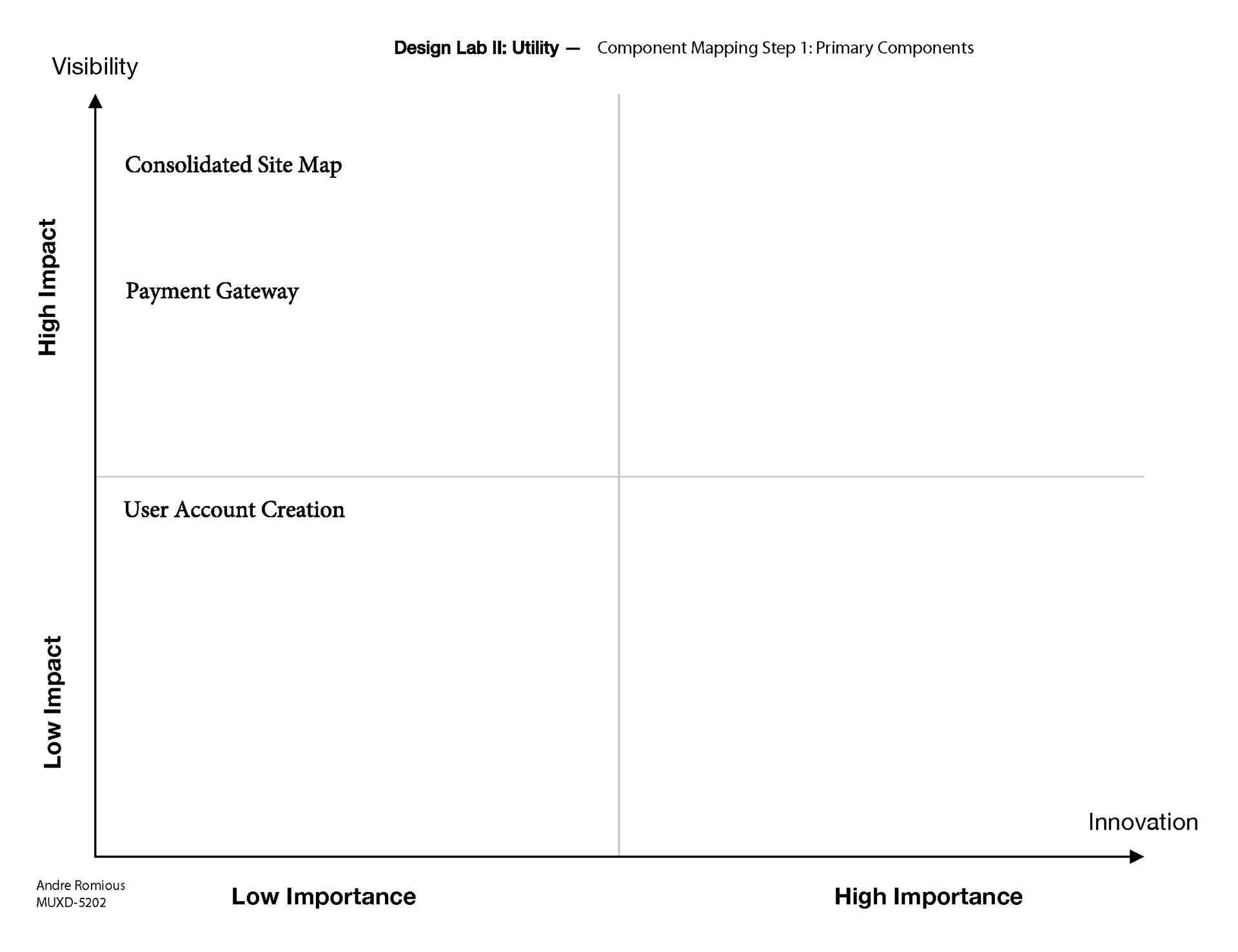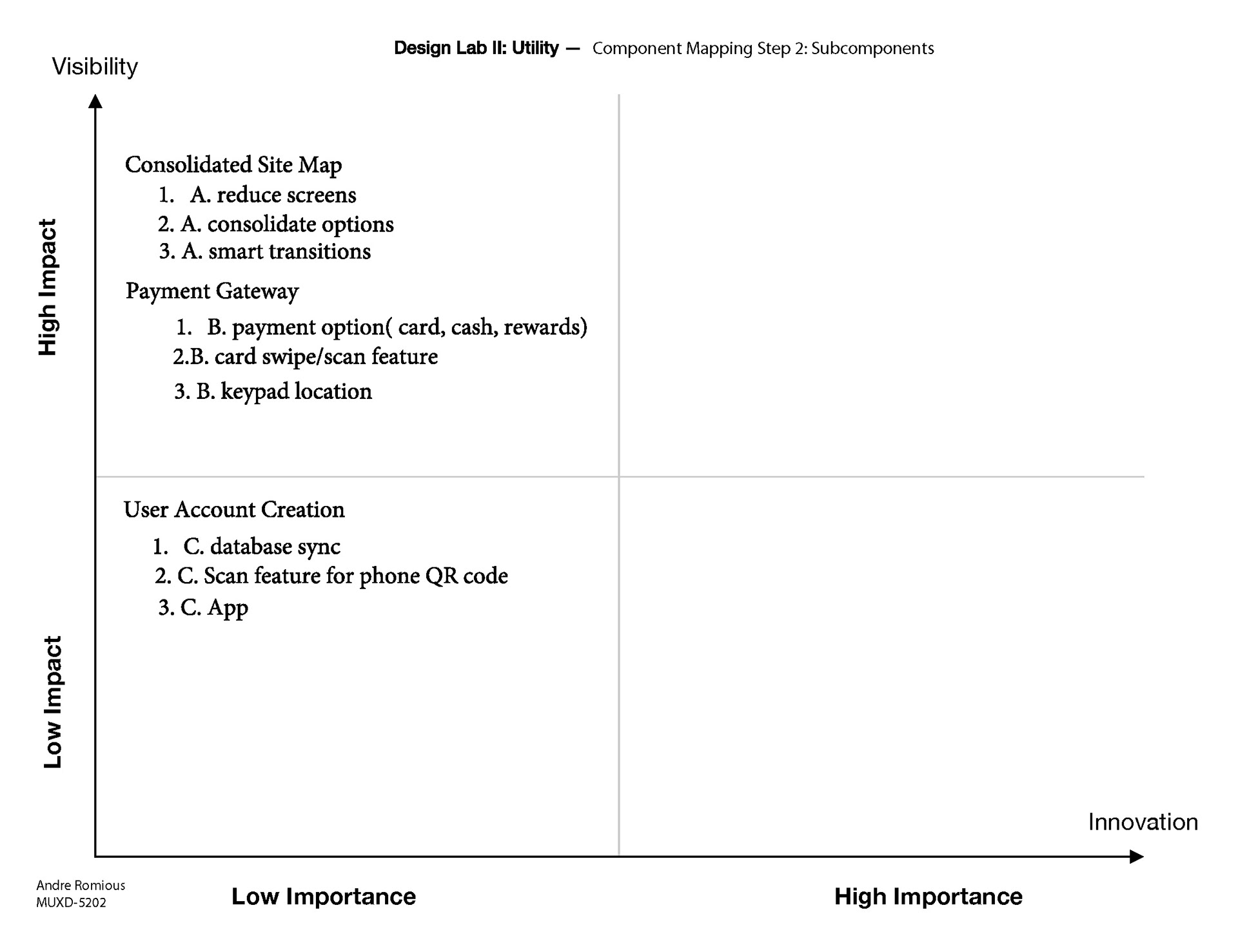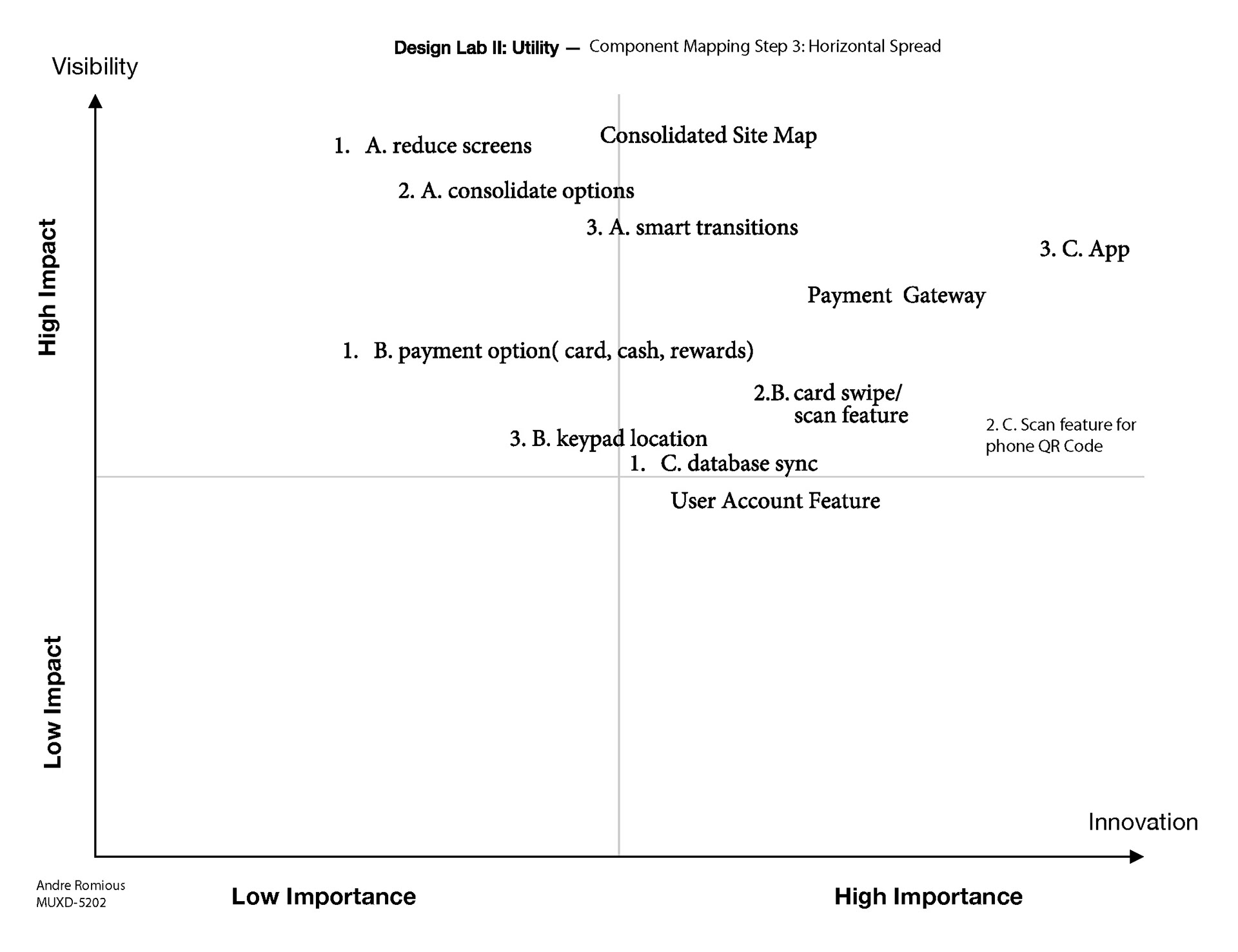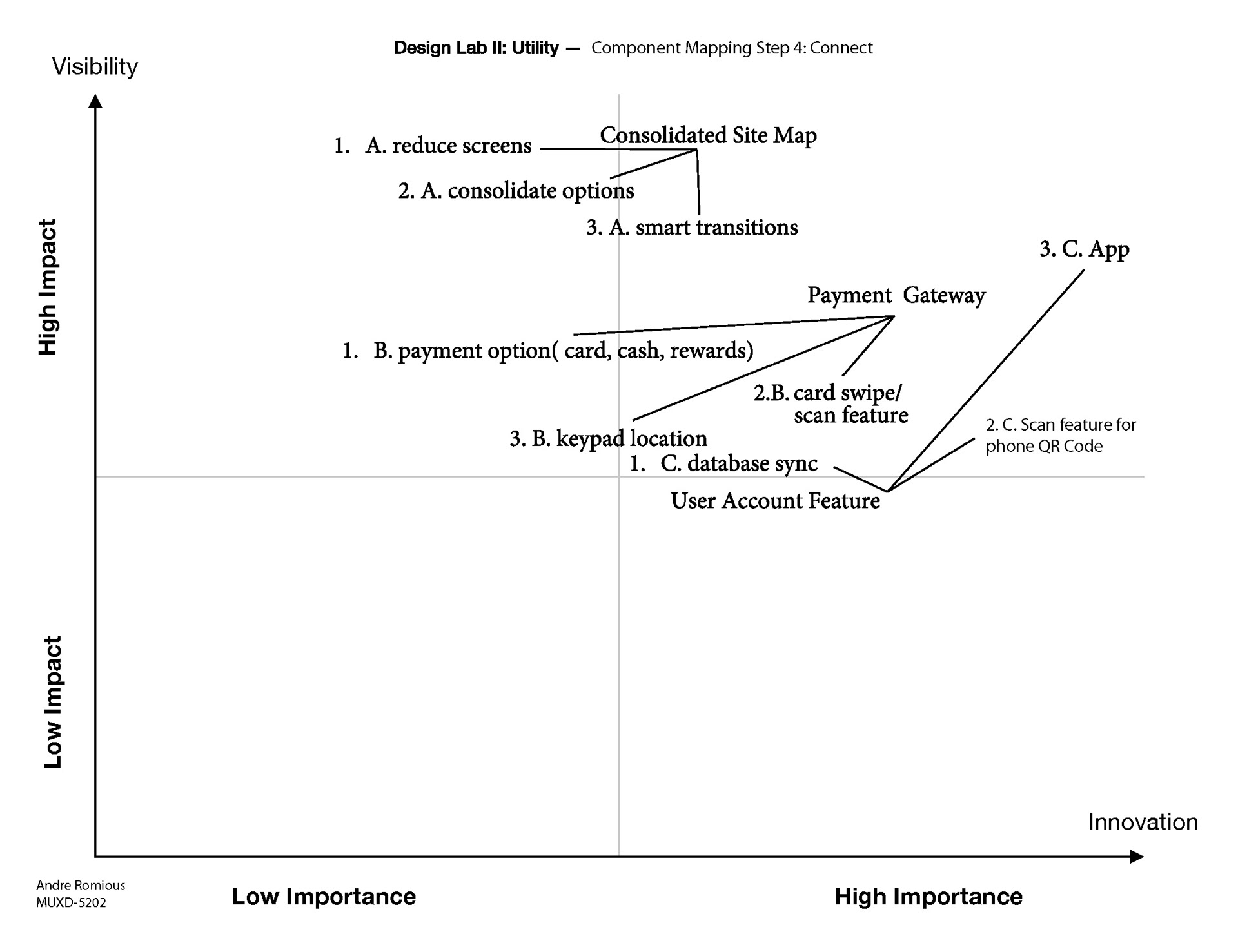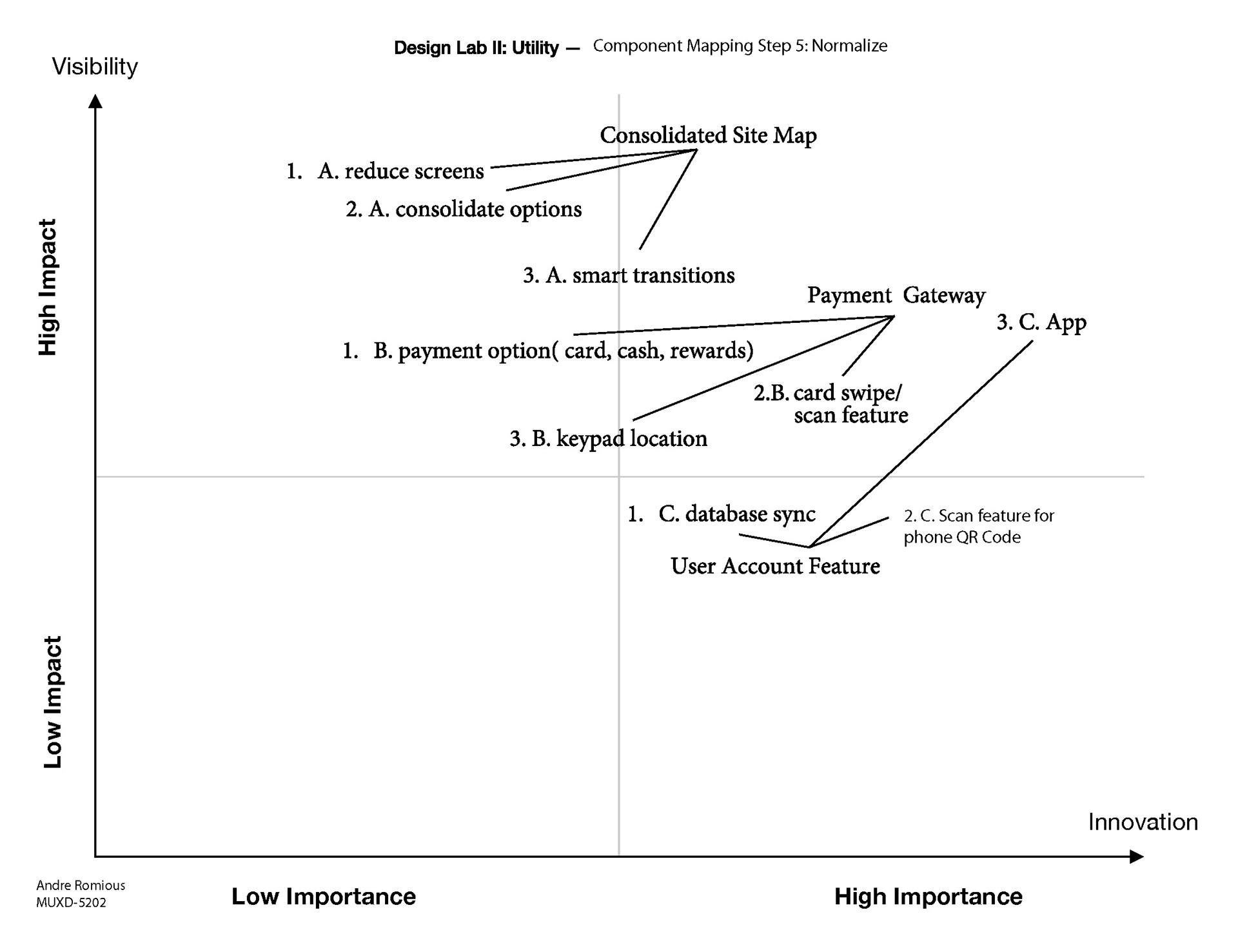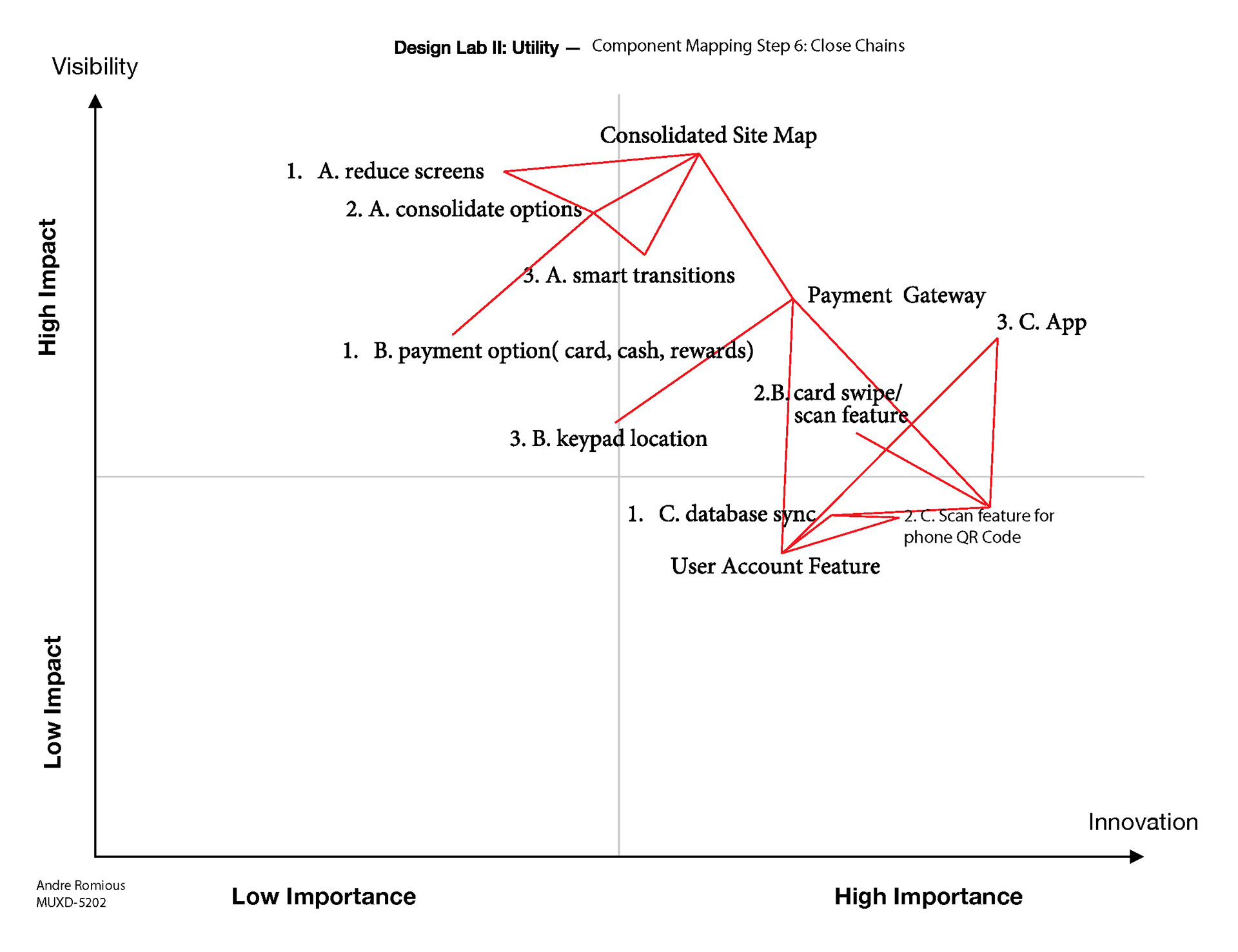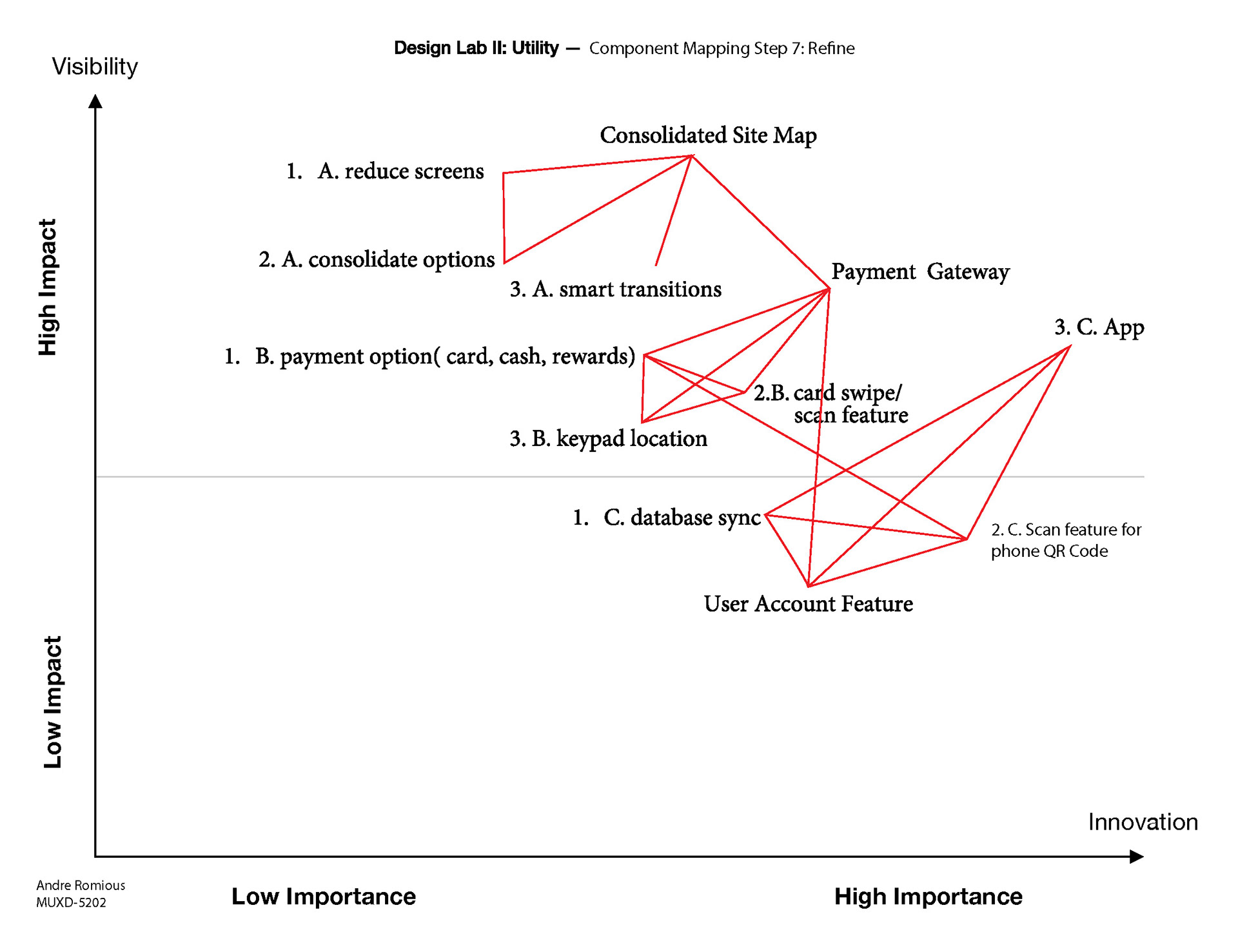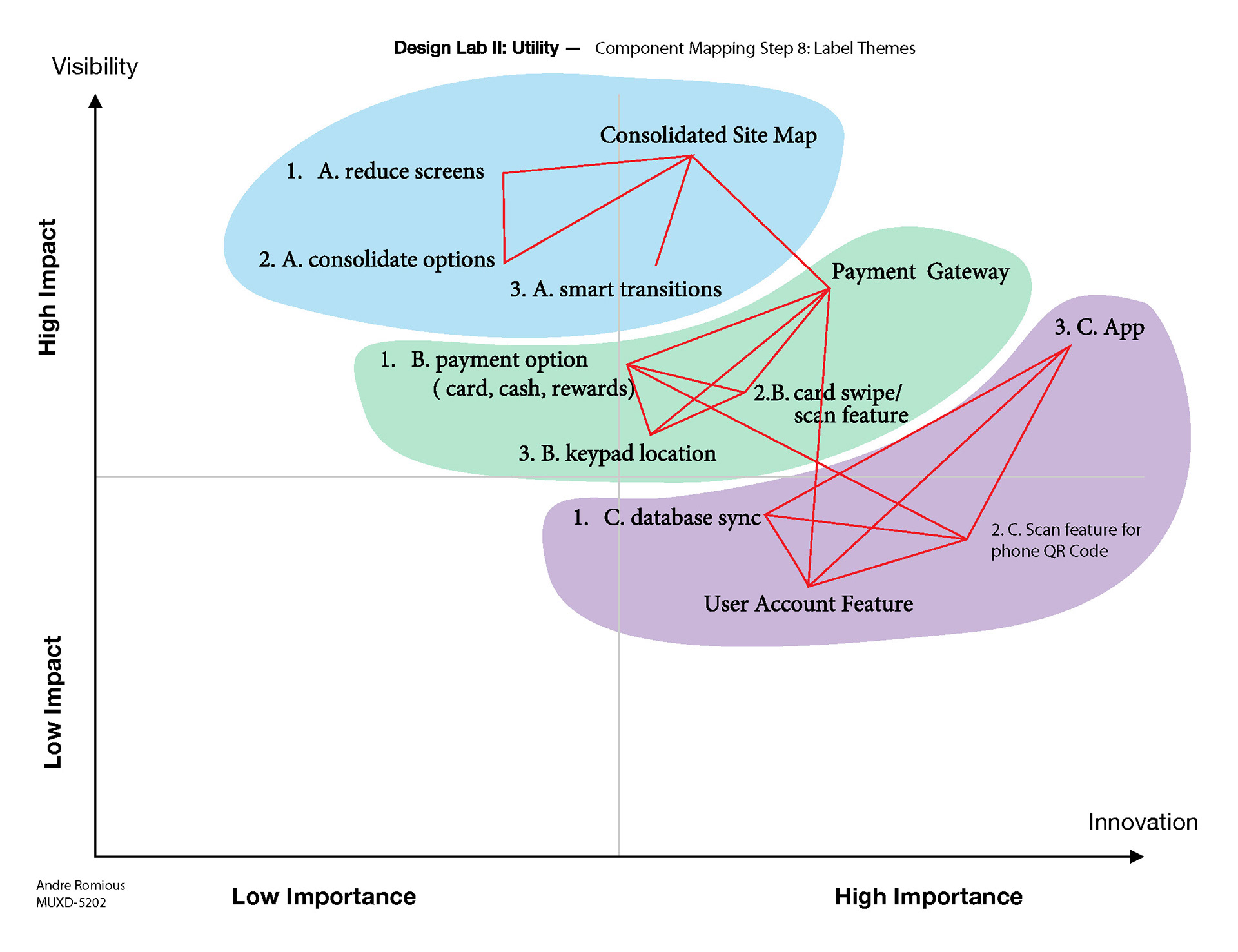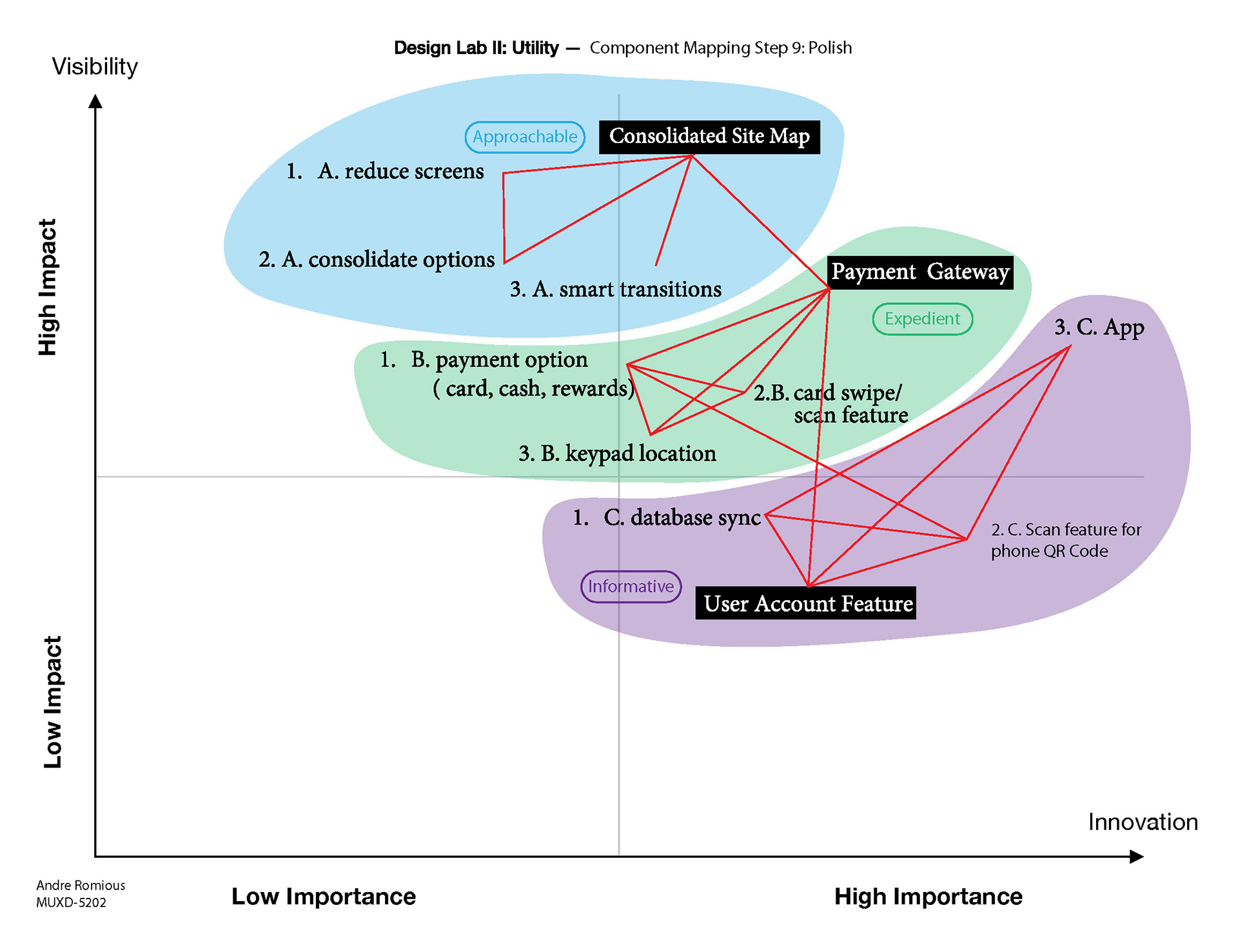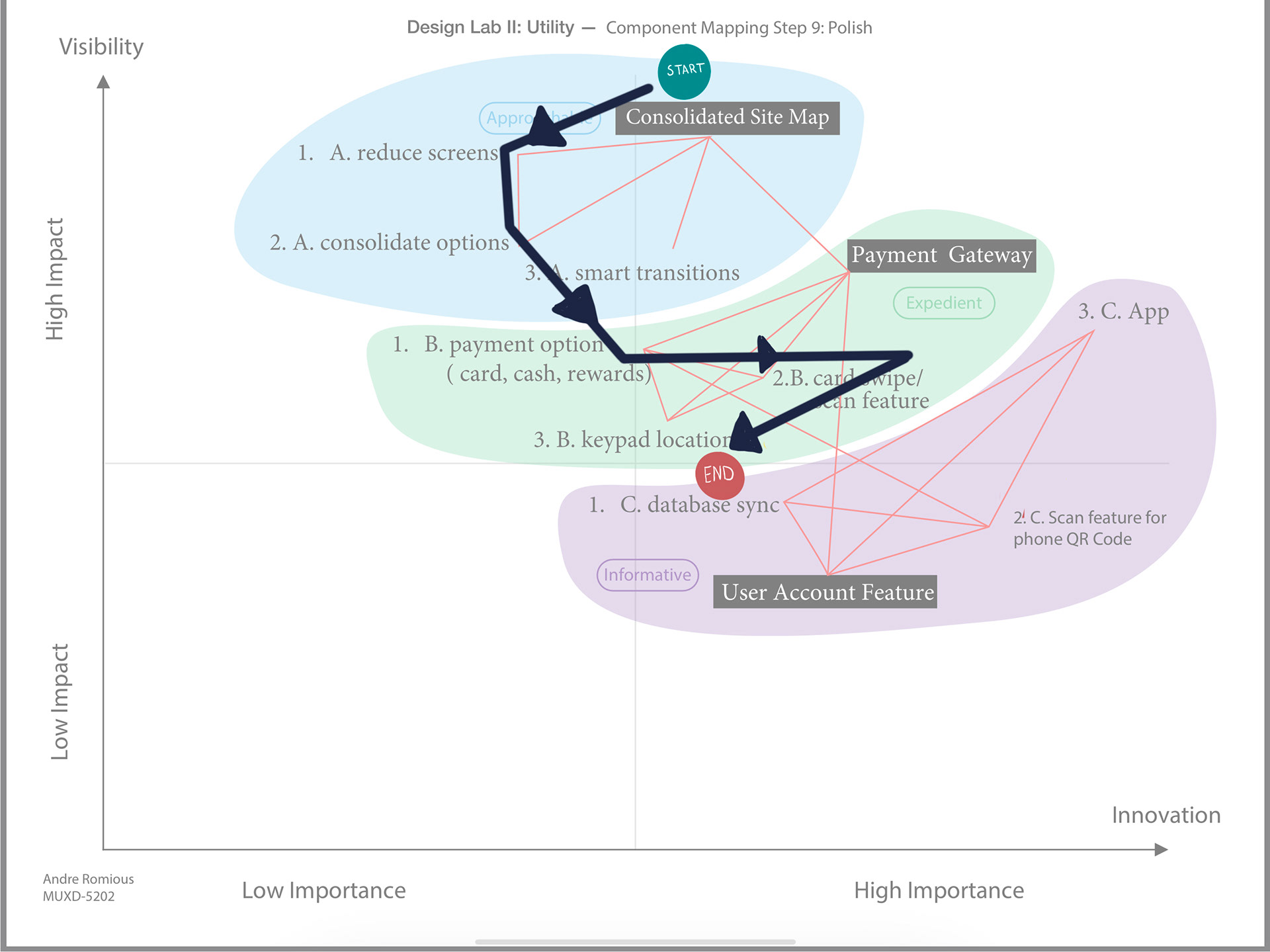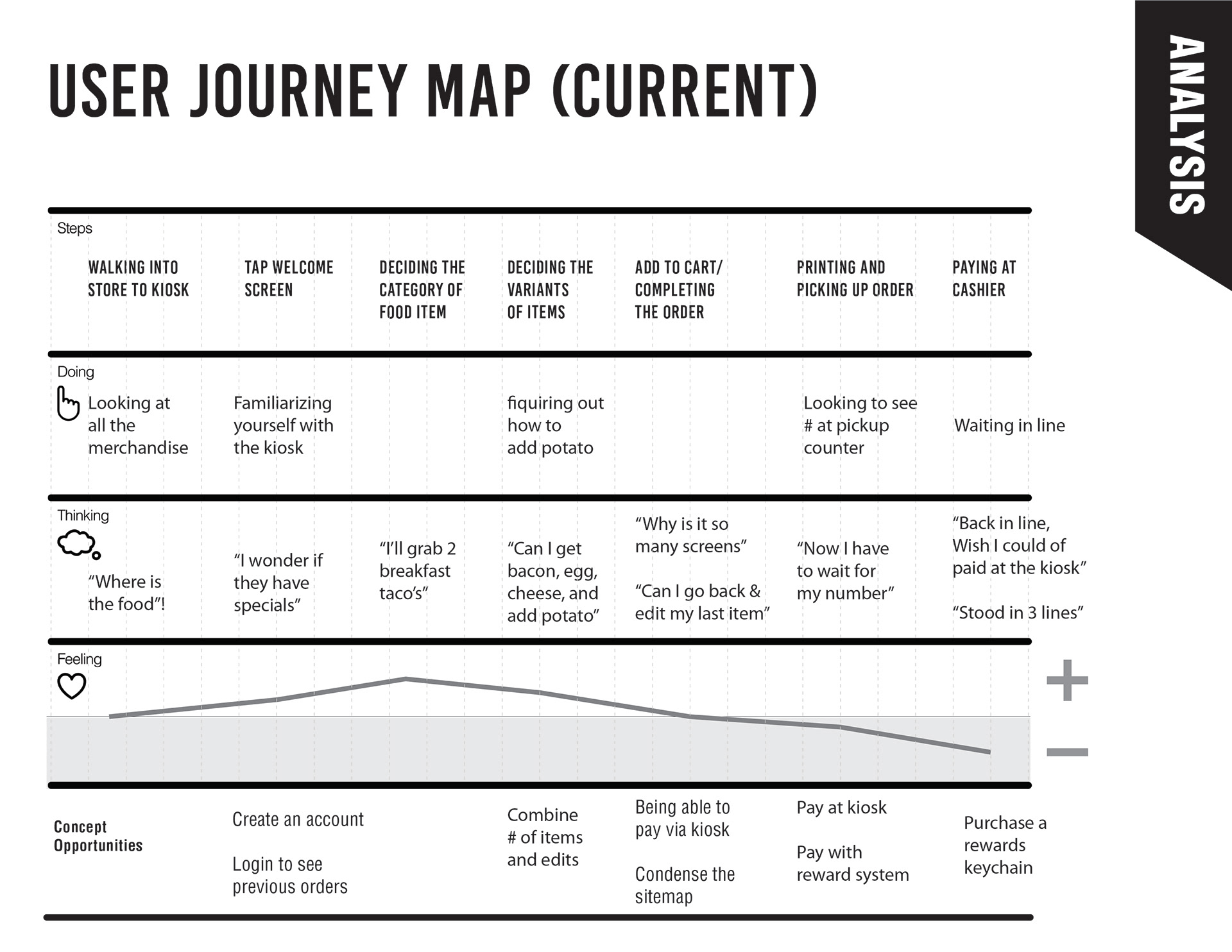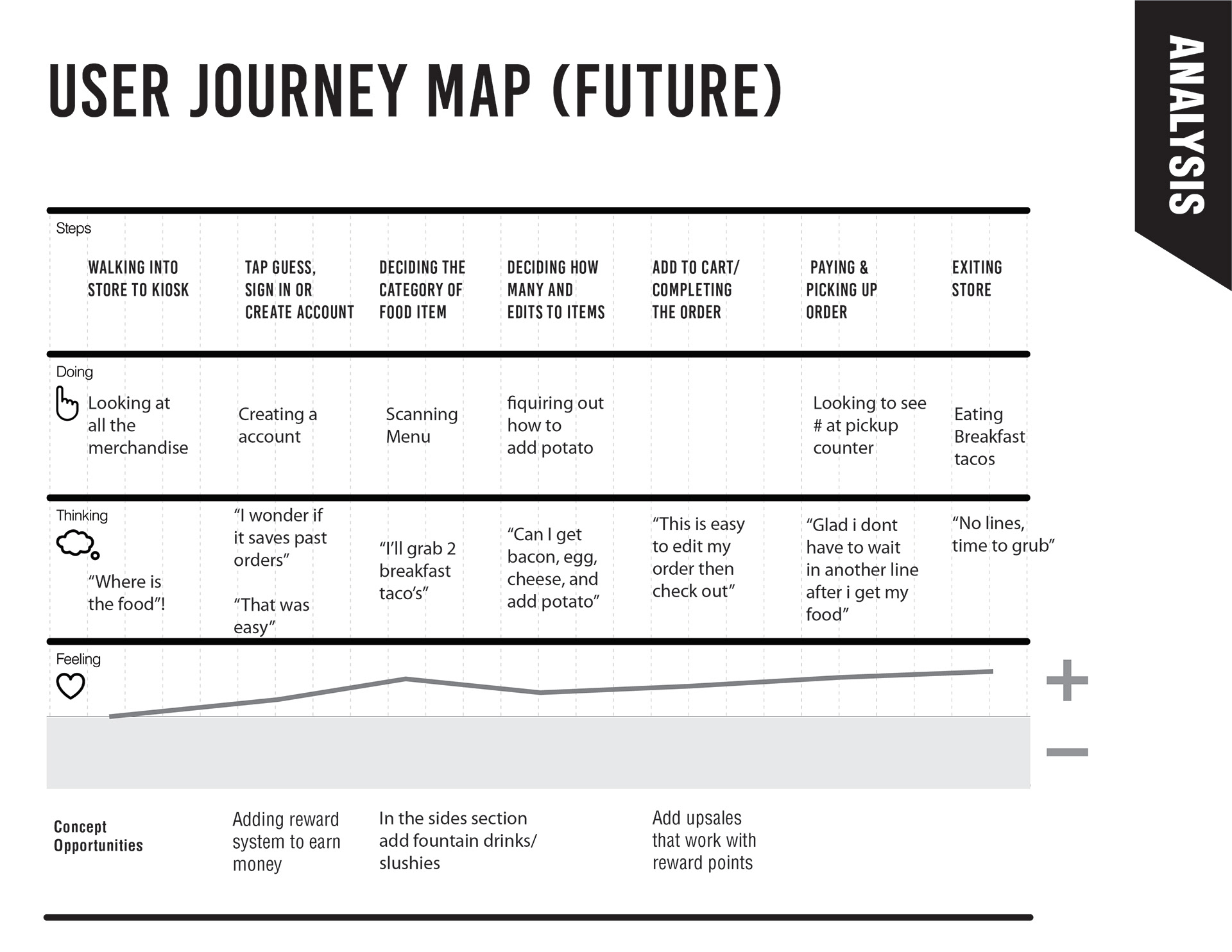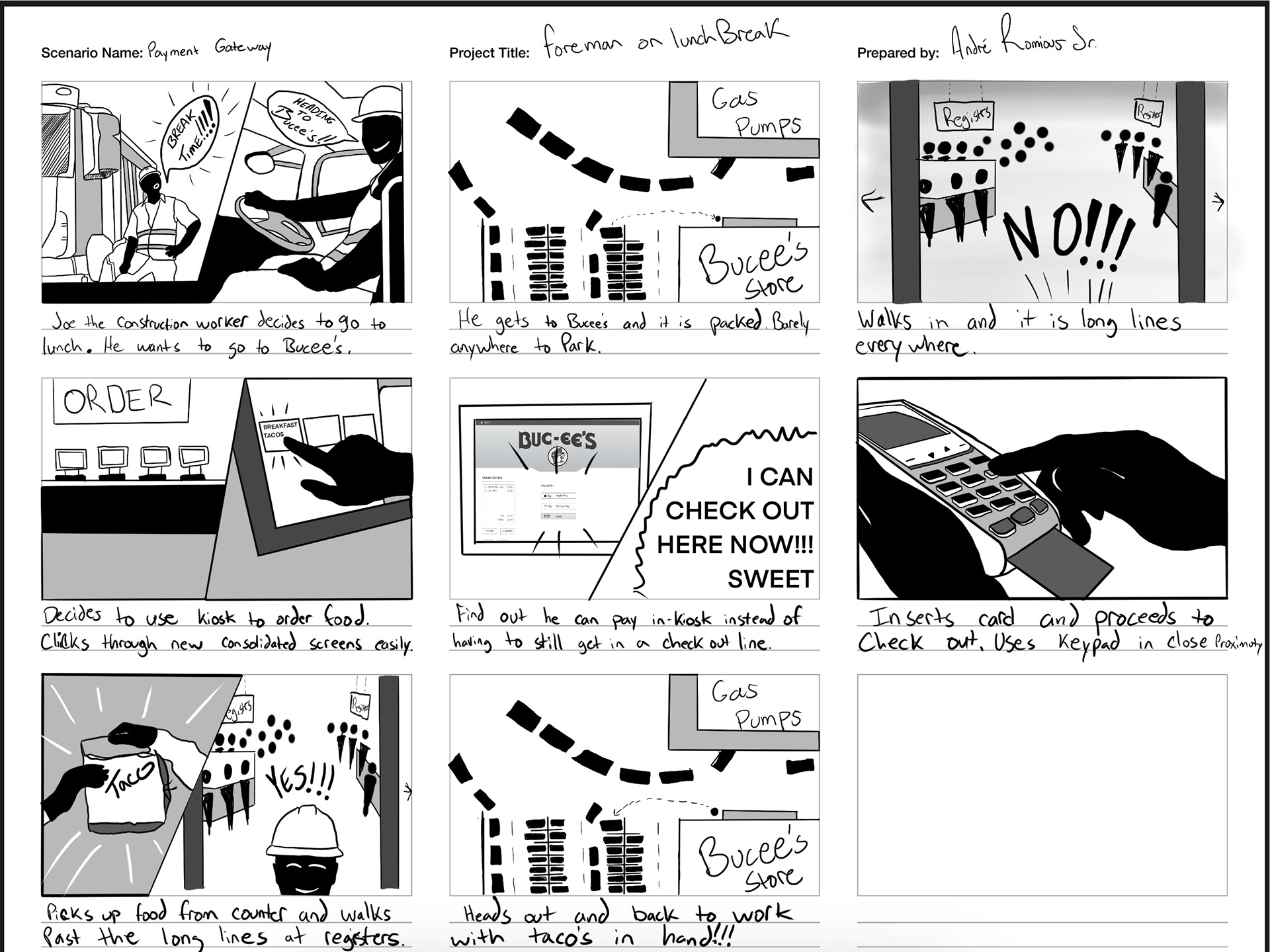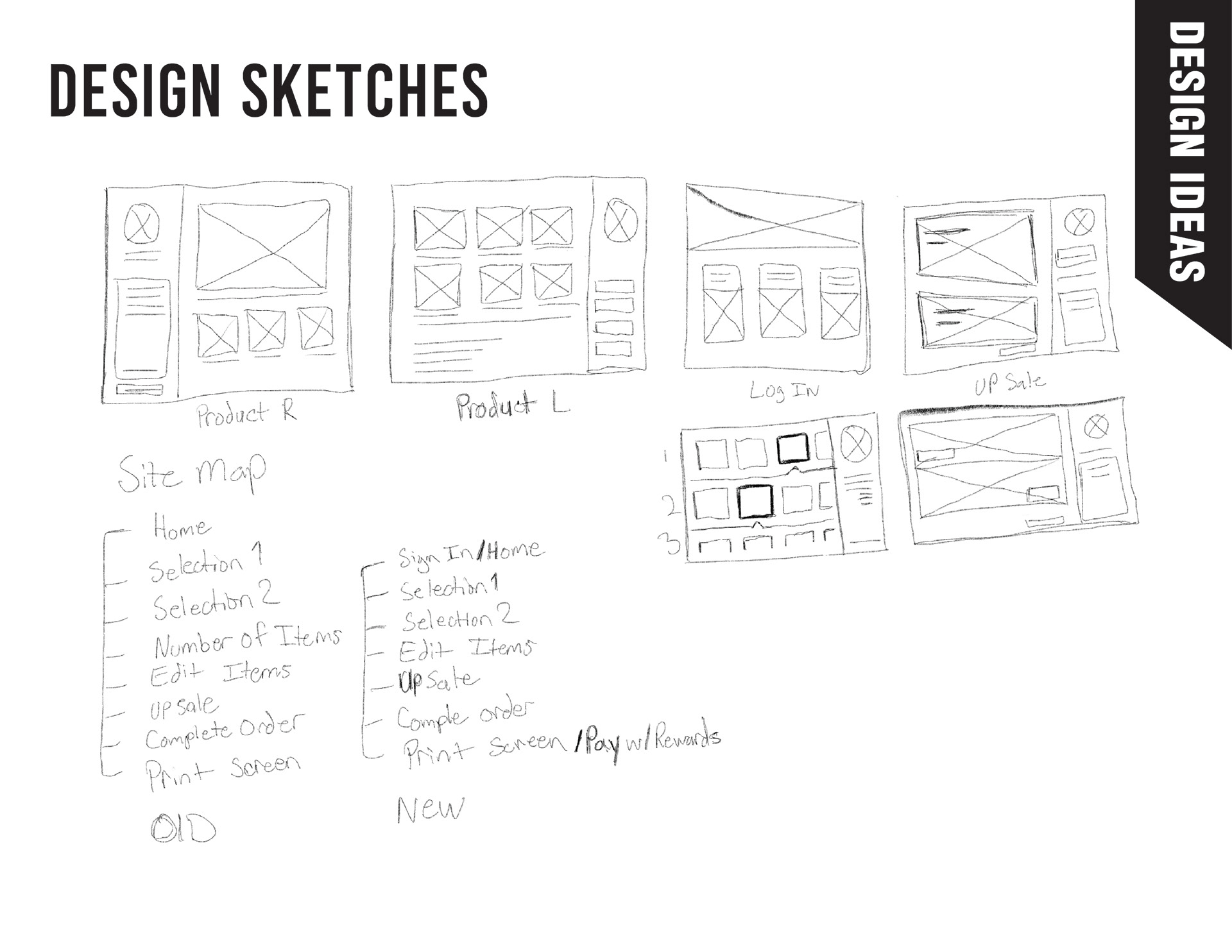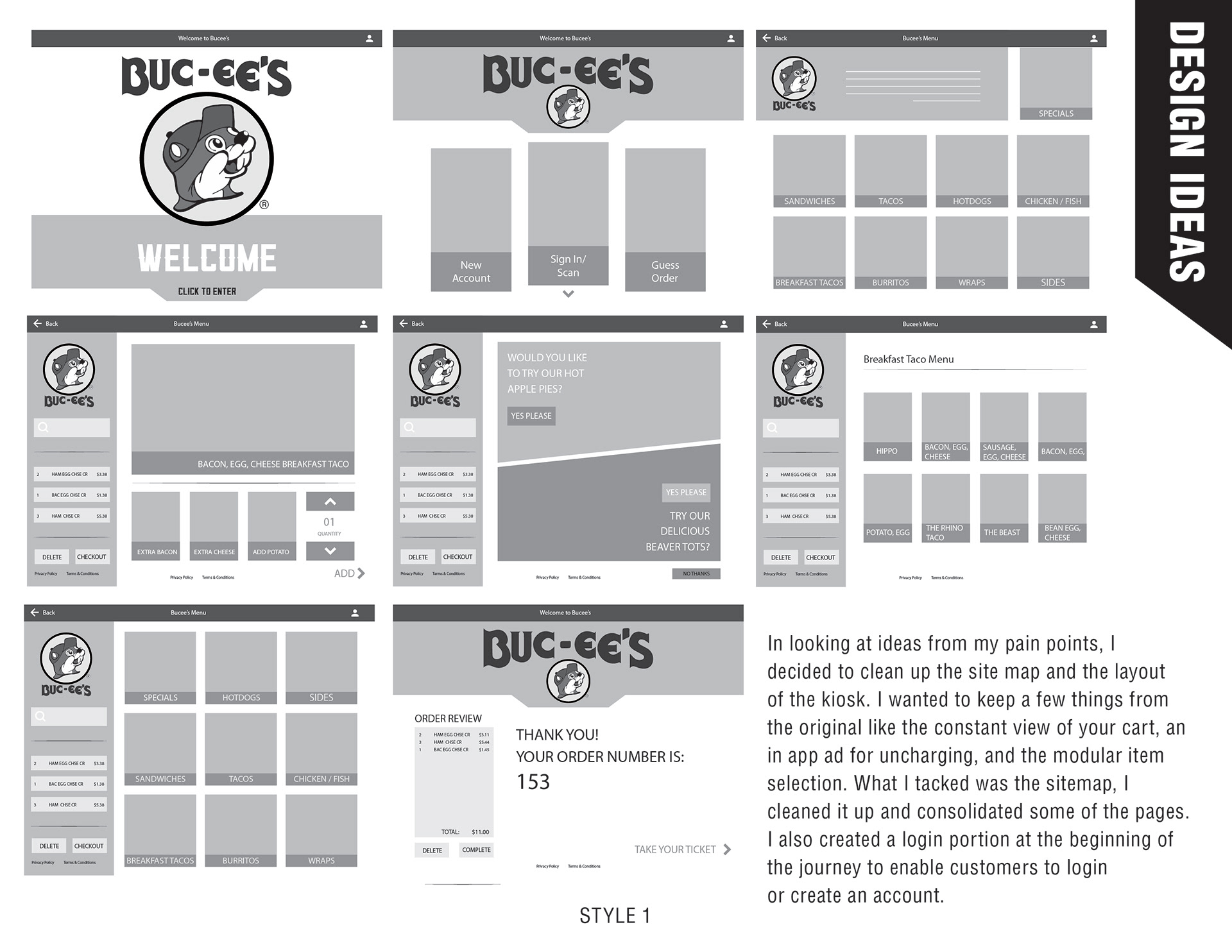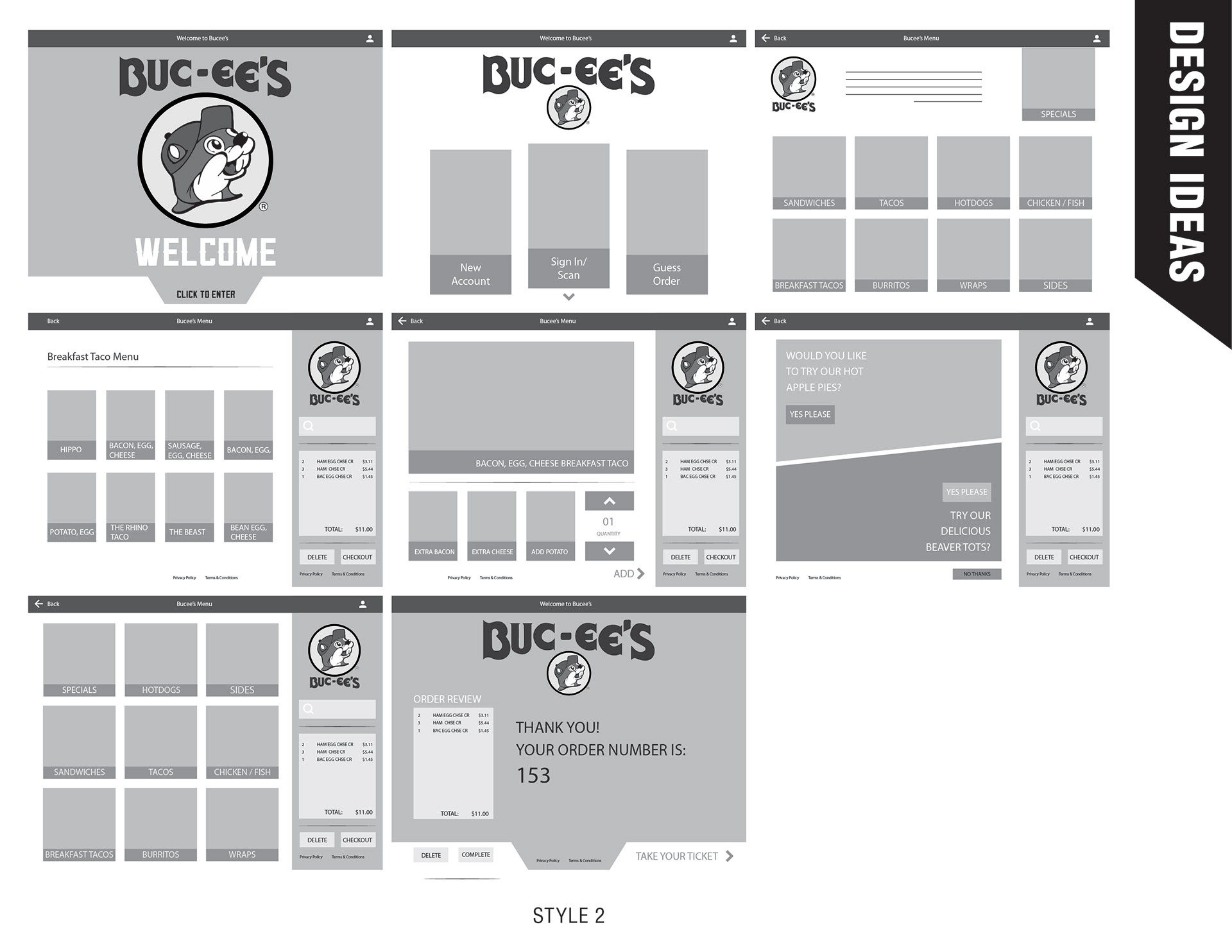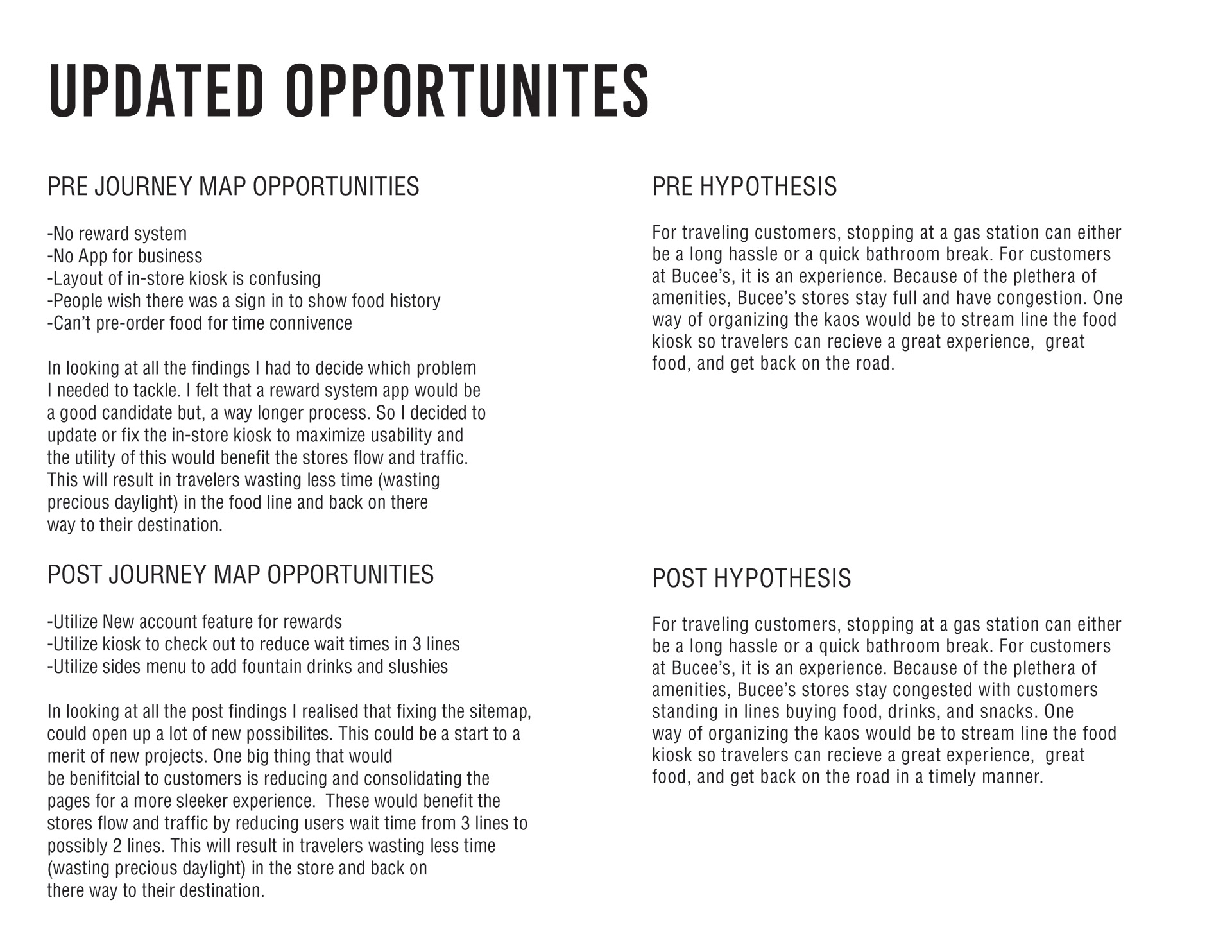 my Prototype idea's (Building)
Design rationale for my solution
For my project I decided to take on the problem of the in-store kiosk and how it contributes to the congestion of the store by forcing customers to stand in 3 lines. There were many opportunities I could choose from but fixing the kiosk would tackle multiple things at once. Bucees is a gas station that is known for its plethora of food and snacks.    So travelers come from far distances to experience the spectacle of what bucees known for. Many travel to Bucees as well as travelers who stop on their way to other destinations. That being said, I decided to condense the site map in the kiosk, add a sign in feature, and end the transaction with multiple ways you could pay for your meal right at the kiosk. This will enable you to lookup your previous orders, quickly glide thru an order and possibly save previous minutes by eliminating having to stand in line at a register.
Plan for testing the prototype
This week I planned to test 2-3 people with a kiosk prototype. My objective was to see how they would
maneuver through the process of ordering 3 bacon, egg & cheese breakfast tacos with jalapeños and adding on an apple pie.
Then I had the checkout with a credit card or apple pay feature.
I watched to see which screens took them the longest to understand and if they got hung on any step
. For my participants for this project, I chose 3 distinctive people. One was a teenager who loved to pay for things with her apple pay function on her Apple watch. One was a 32 year old mom who never carries cash. Lastly, a participant that was 41 year old, male and always carries cash but hates to stand in lines. I gave each a scenario of ordering tacos and paying with a different means of paying.
prototyping process
For this project, I needed to have contrast and colors because I didn't use photos.  I wanted to use perspective and a lot of white space so the viewer wouldn't get confused by what they are looking at. Functionality-wise I chose to create a prototype using digital means simply because I felt it would be quicker and more precise.
The tools I chose to use were programs such as
Sketch, Flinto, Invision and Adobe Illustrator. I used Adobe Illustrator on a daily basis to create vector shapes and it works well together with Sketch and Flinto.
I plan on using these tools again in the future because they were effective. 
I discovered a
few hang ups in Invision and Flinto when trying to export my prototype for users to test.
Both of these programs use a cloud based service that requires a strong internet connection. If your internet connection is not up to par you will spend a lot of time waiting. Another program I may try in the future is
Adobe XD because you are able to export a working prototype that can record without the cloud service.
summary of testing
One thing I learned from the test is that
I can't eliminate the step of people actually going to the register because the kiosk is for specialty food items only.
It is not for everything in the store.
So I had to go back and add in an option to go print receipt and check out at the register.
I also learned during my test, I had to phrase the scenario and update it multiple times to make sure that they went through the correct process.
After receiving
input I went back and added the option to print receipt and pay at register
for people who ordered other items, or who only had cash.
I also had to go back in and
edit a few screens that had the submit and back buttons because they were confusing the my test subjects.
Video of prototypes (Low/mid fidelity)
Video of shareholder prototype (Hi fidelity) 

Creating an account function video

creating a scan function video
Creating an Account - Enable a reward system, enables you to view previous orders, and enables the implementation of a App
Scan Function - Quick way to sign in for rewards